Allure POS Theme
Required themes
Point of Sale (point_of_sale)

Technical name
allure_theme_pos
This Theme is compatible with
Community
Enterprice
Odoo.sh
Allure Backend theme
POS Allure Theme
More work area for POS users.
Flexibility for users to choose multiple views like Kanban, List & Barcode view.
Flexibility to manage multiple payment method & payment screen.
User can easily view order-line with their updated quantities a products.
Fully responsive and optimized view to work smoothly laptops, tablets and mobiles devices
Users can customize their own Color Combination.
Flexibility for Users to choose and customize function that they like.
Flexibility for users managed customized button easily.
Change left side bar view of pos screen.
Flexibility to choose from Regular view and Full screen view
Fully Responsive Modern Material Design.
Easy to menage Pos restaurant Floor and session.
Allure POS look & feel and user experience
Kanban view of Product Screen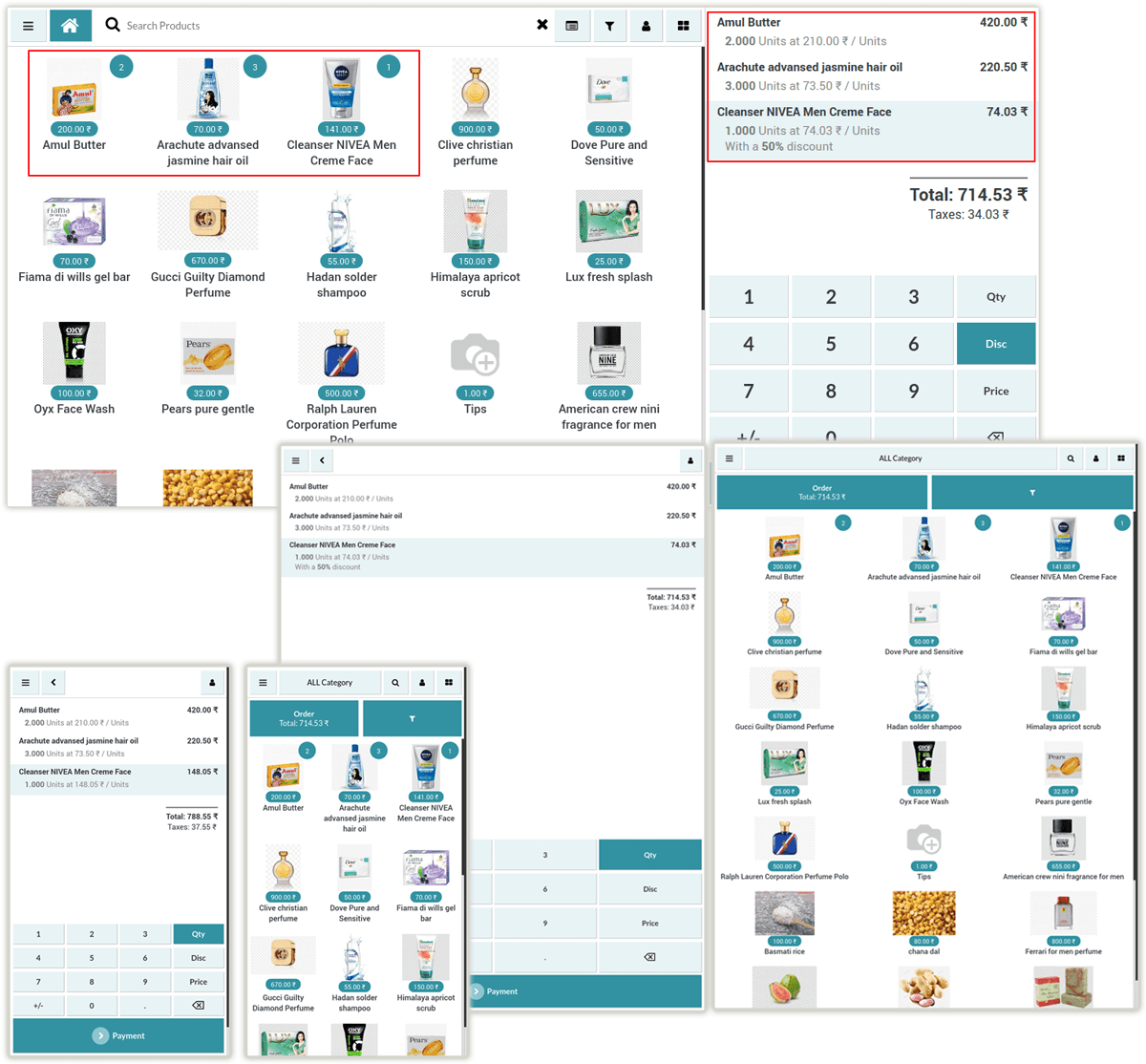 Change Kanban view to List view
Here User can change the view of Kanban view to List view and visa versa.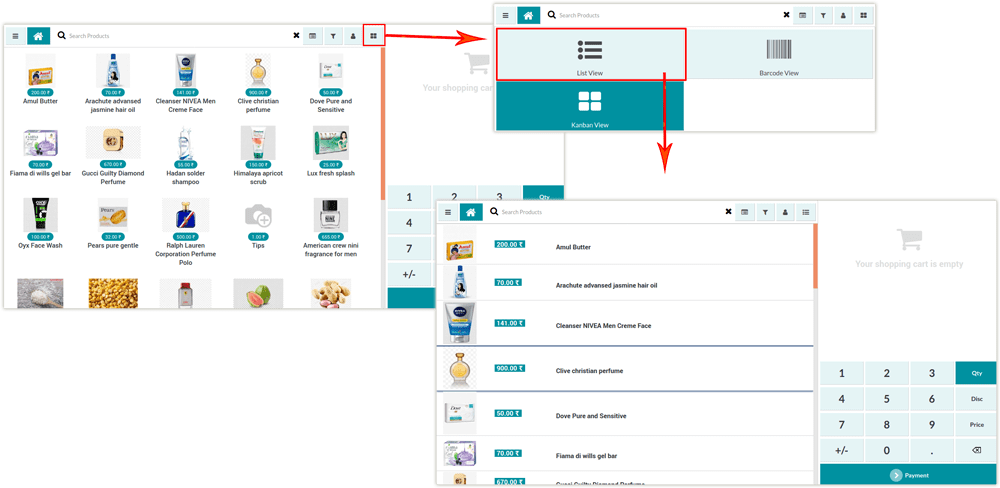 Ipad view
Here User can change the view of Kanban view to List view and visa versa.
We have optimized the view and made it Ipad responsive.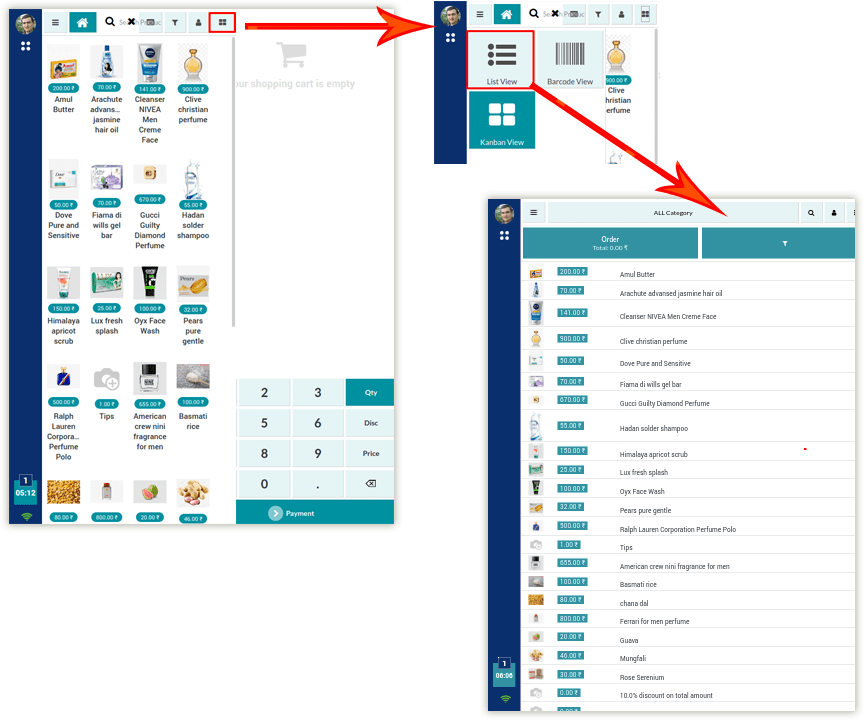 Mobile View
Here User can change the view of Kanban view to List view and visa versa.
We have optimized the view and made it Mobile responsive.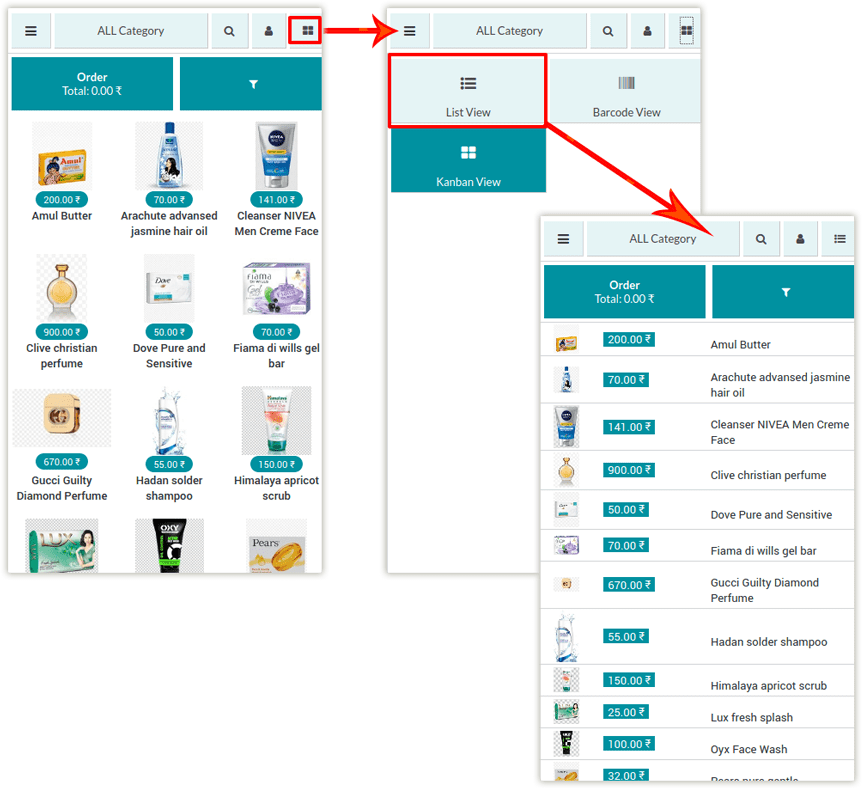 Barcode View of POS Product Screen
Here User can view Bar code view of POS product screen.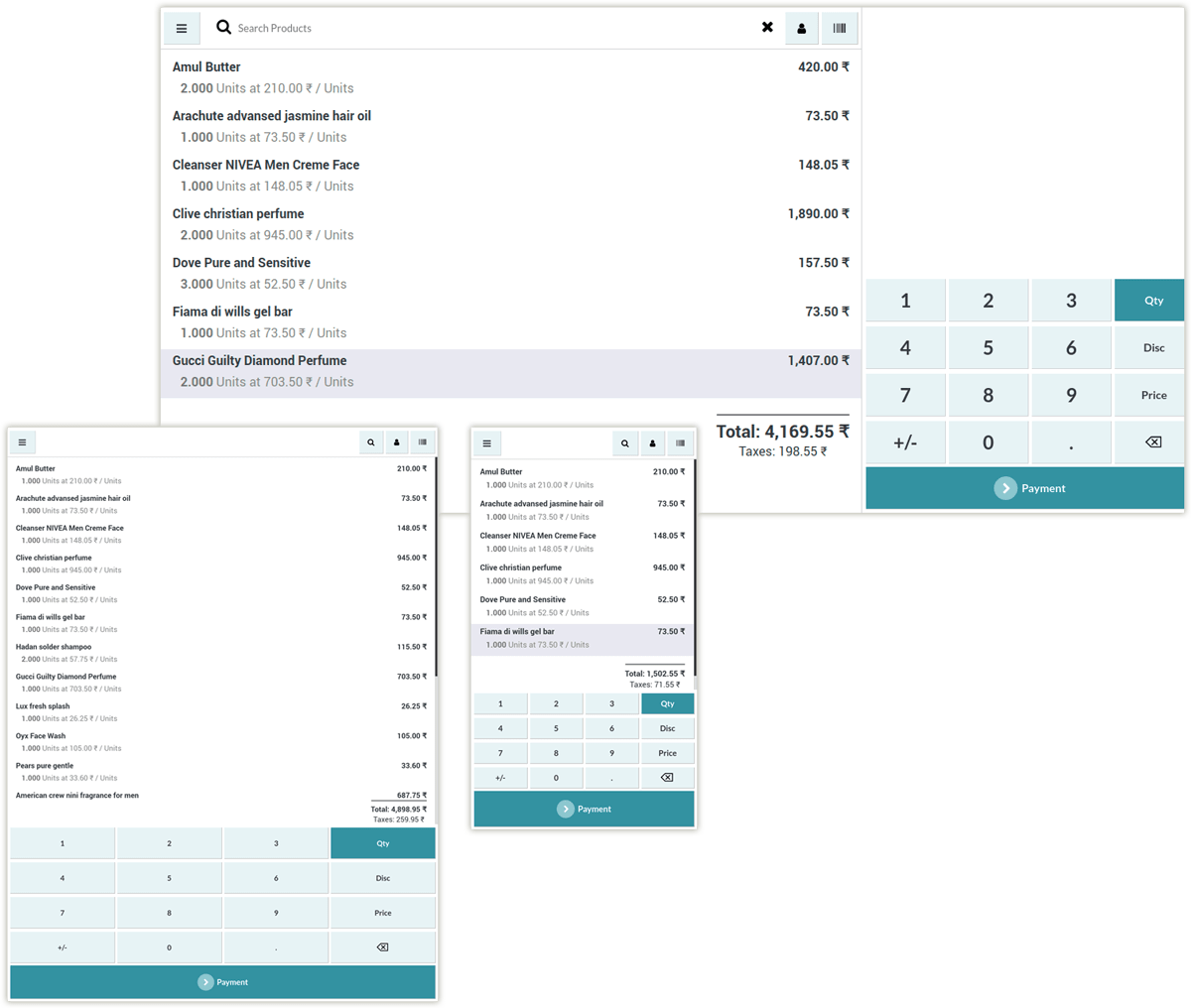 User SideBar POS
- Here user can lock POS screen, close session, and view POS order reference.
Fully Responsive Modern Material Design.
View Photo of user with their name.
Easy to open & close this sidebar & it helps to reduce extra space of POS screen.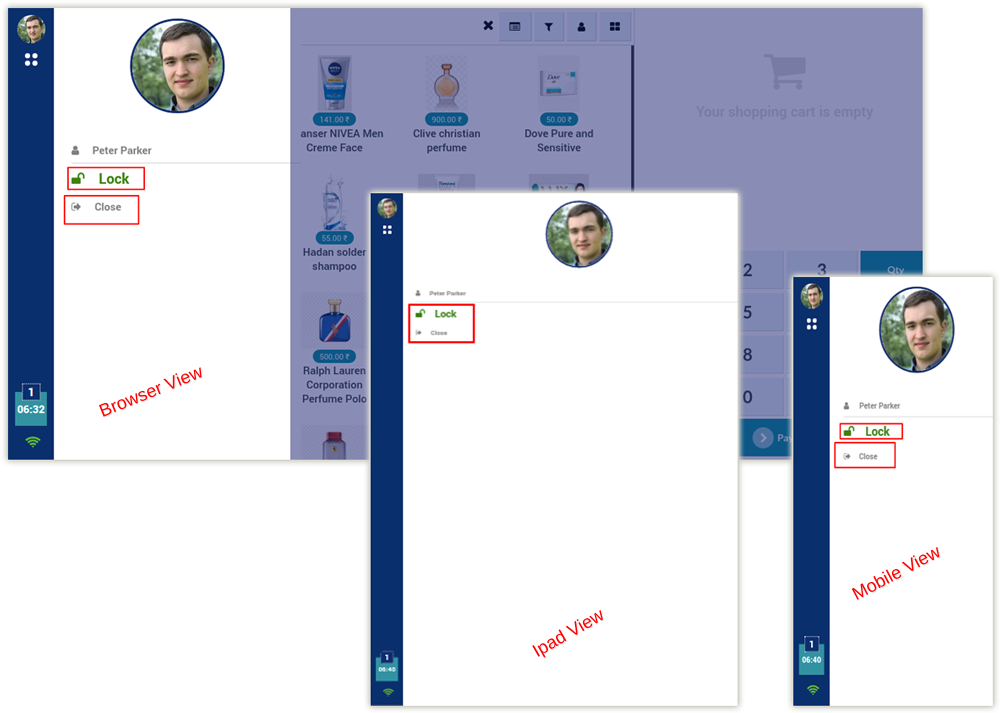 Change Order Screen
Here user can manage and skip between two orders.
Multiple number of orders can be easily managed using this screen.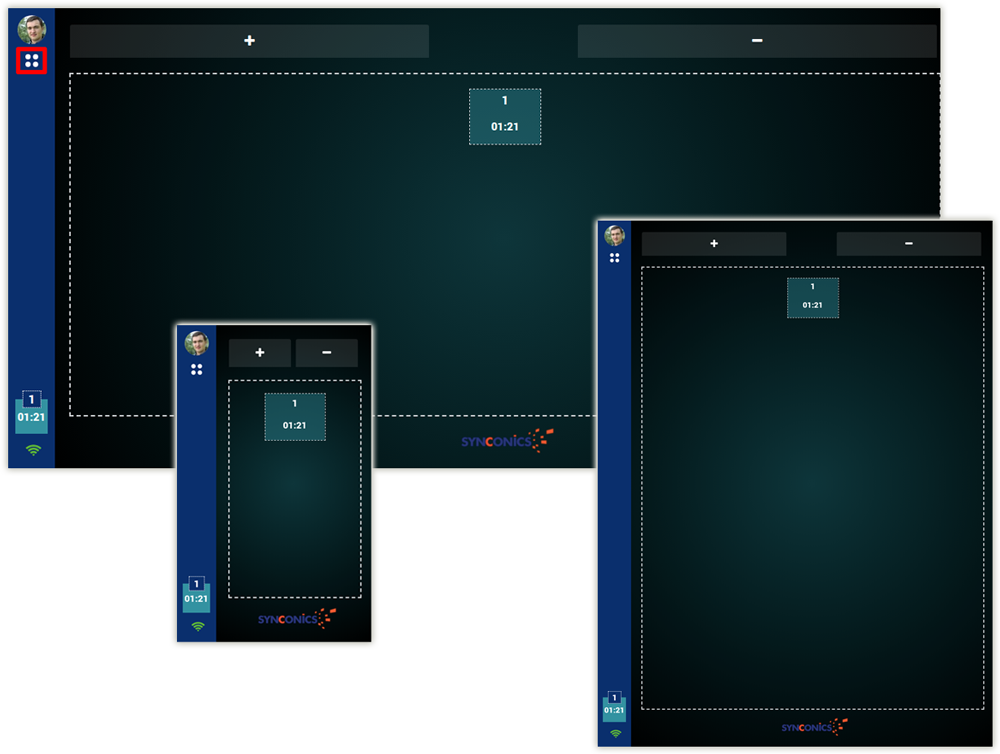 Category Manage Screen
Here we have managed a separate screen for POS category.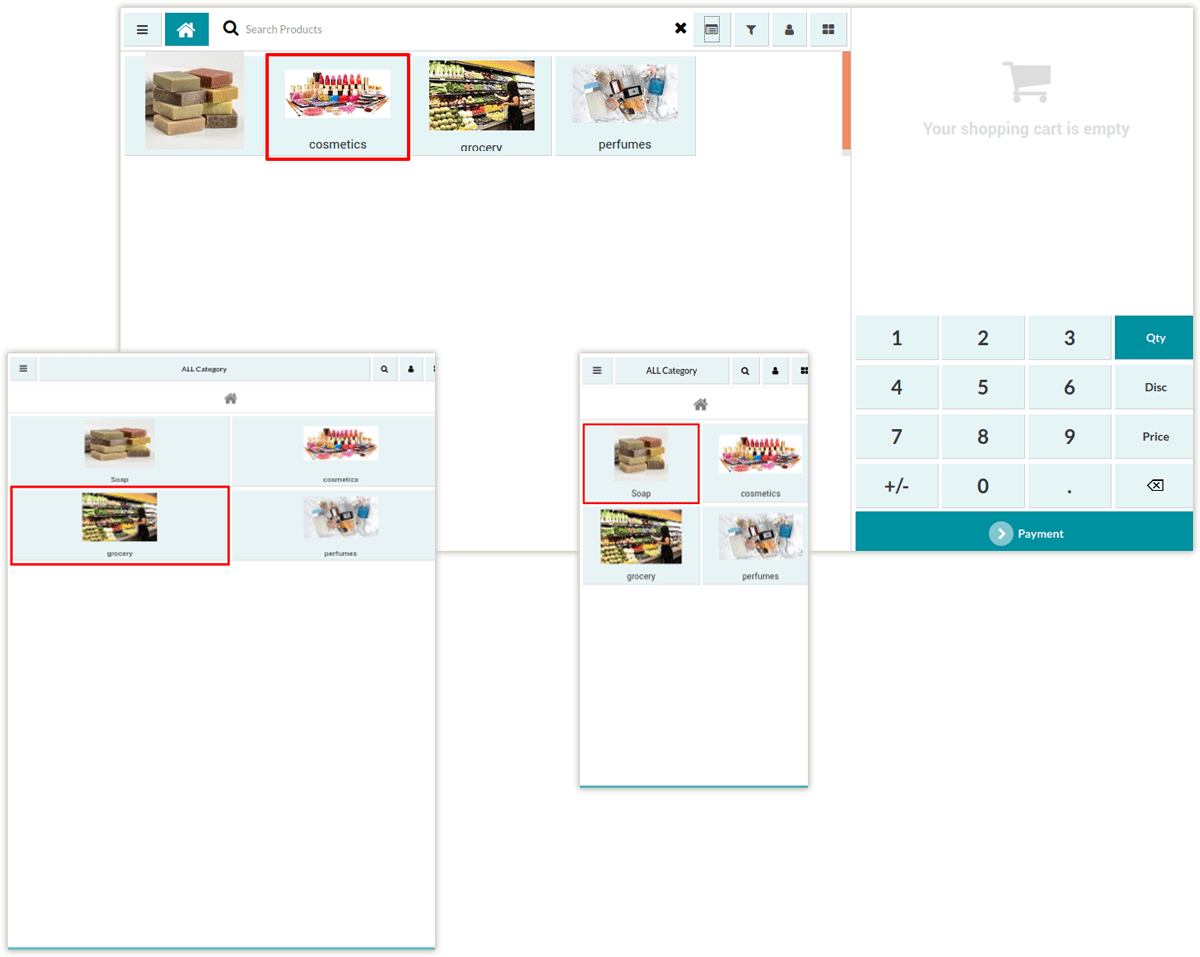 Add Product in Order
POS user can easily add product & view updated quantities on the product image.
On mobile & tablet view, a user has to first, click on the order button then after he can view Point Of Sale order screen.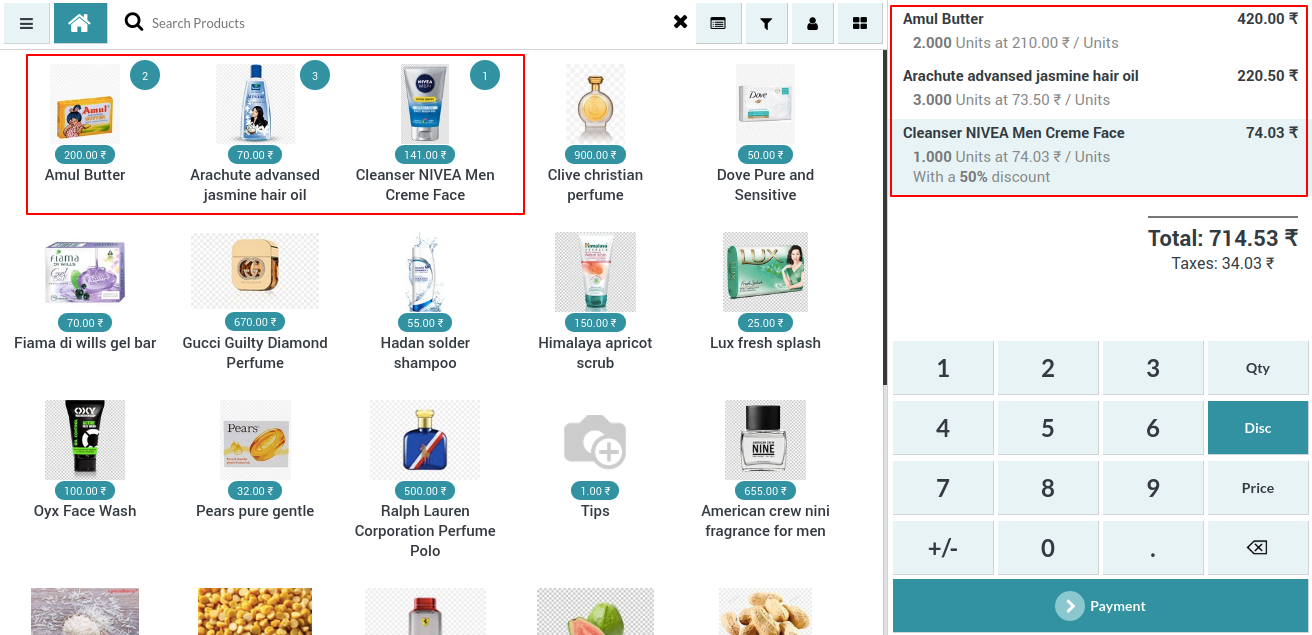 View Customised POS Button
Here user will find buttons for each and every functionality for ex bill, discount, split etc.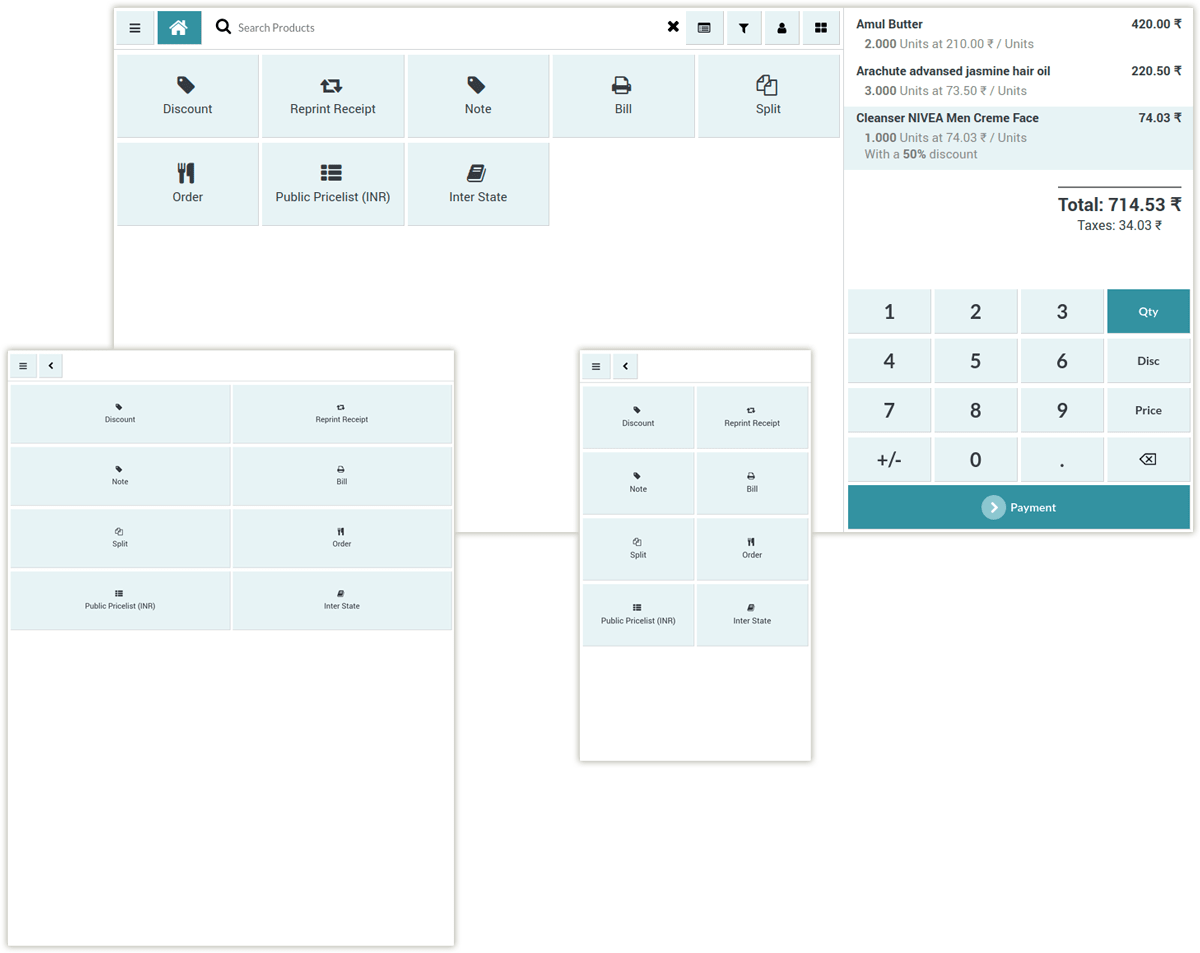 Add Payment Line
Here user can view changes of payment with proper format & add multiple payment line easily.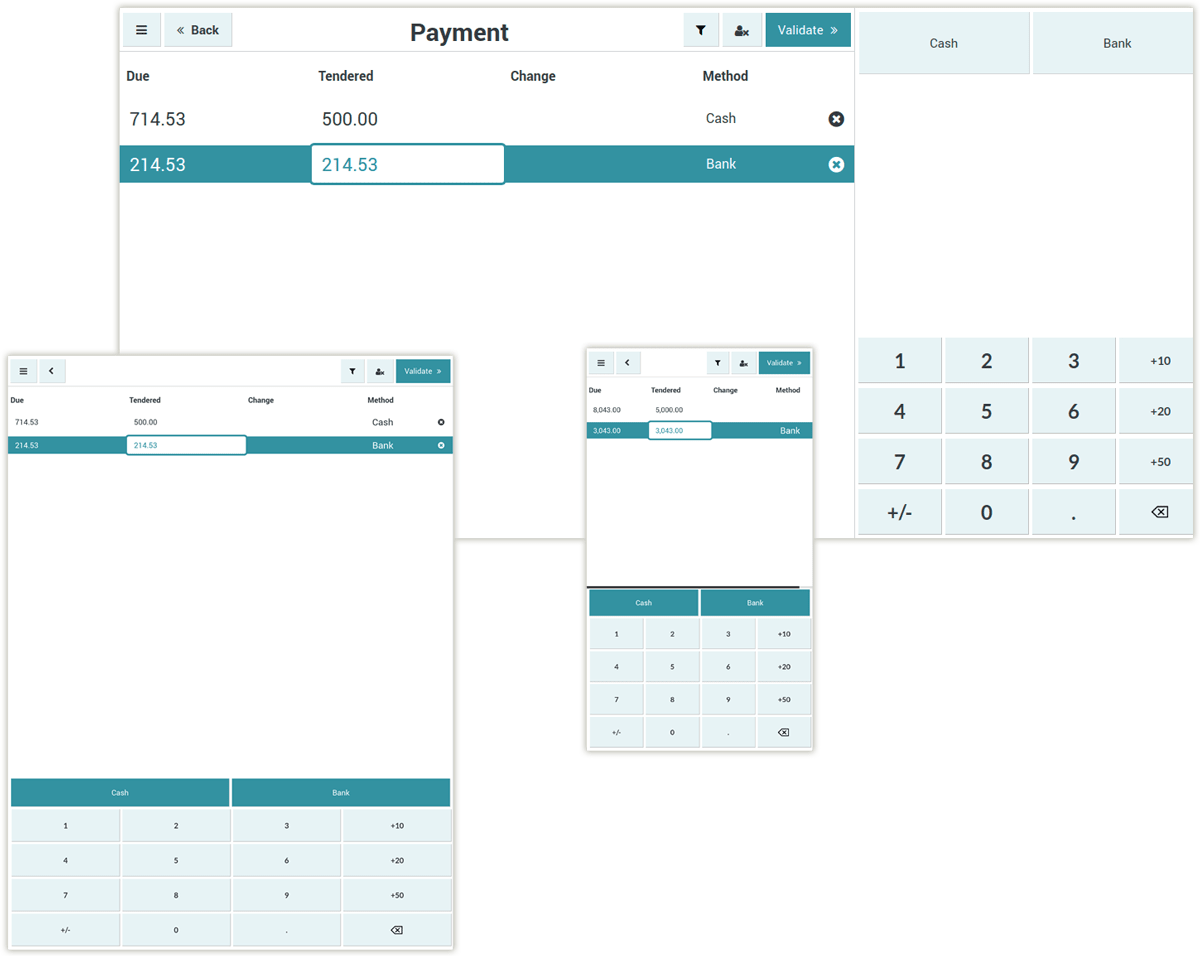 View Customized Button
Users can manage customized payment screen buttons on a single screen like Invoice, Email, Tip, etc.
View Receipt Screen
Users can view receipt of POS order with proper format fully responsive.
Users can differentiate between base receipt & our receipt.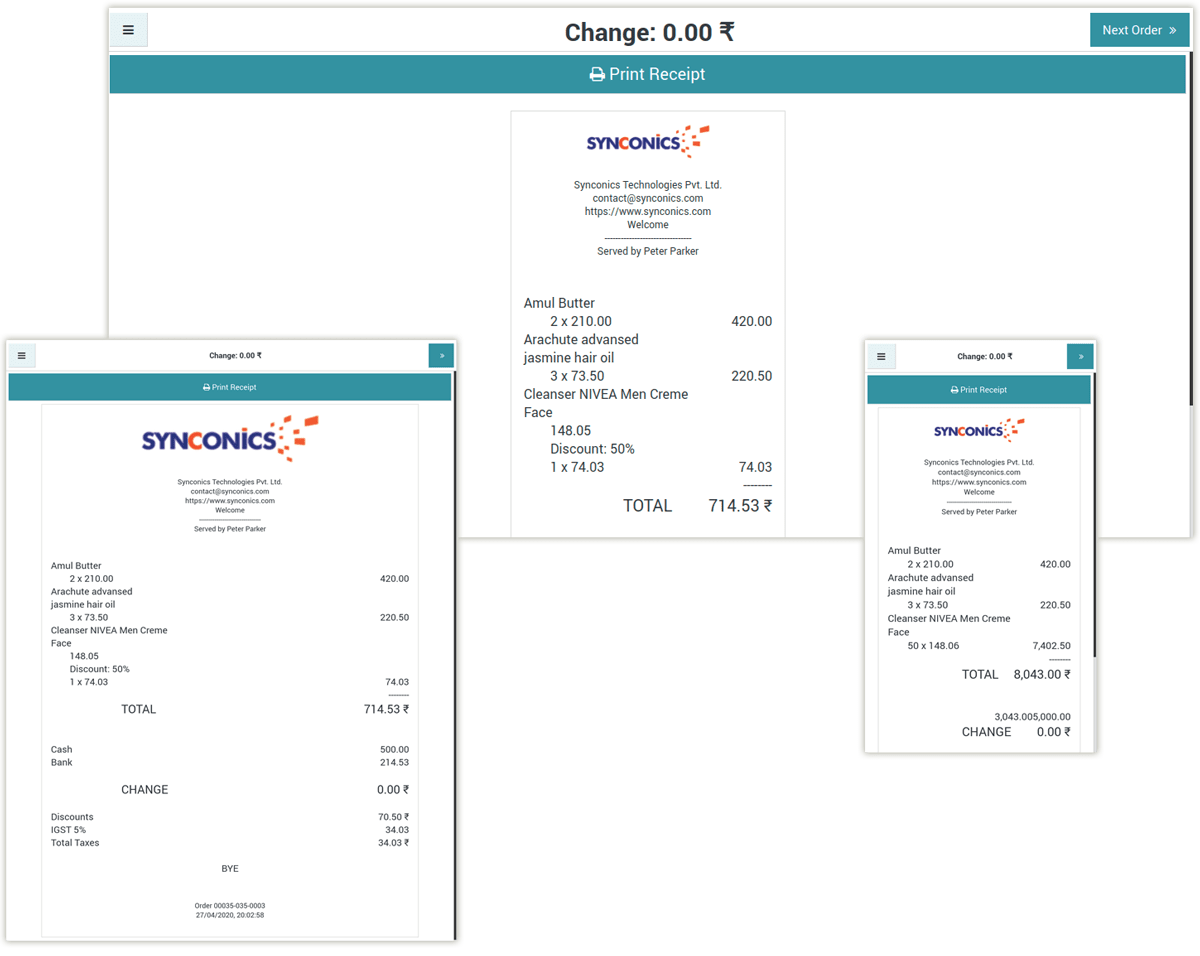 Restaurant Screen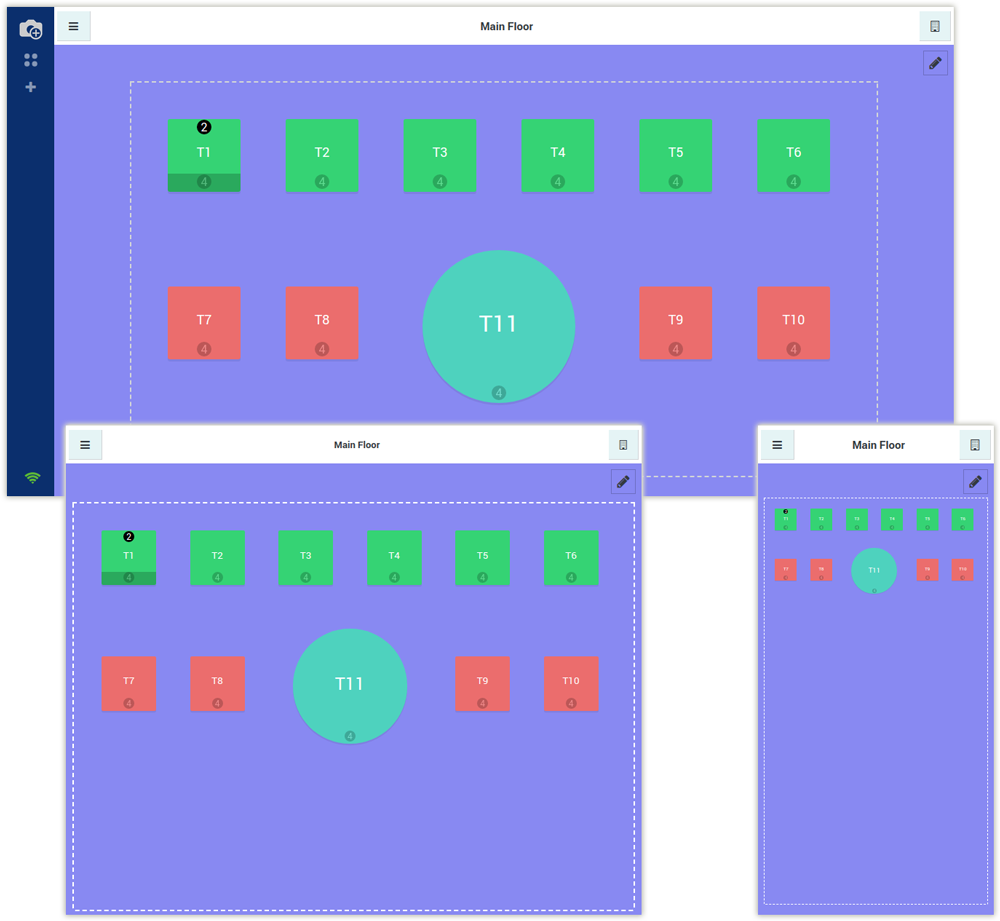 Free Support
1) One month free bug support period will be offered pertaining to anyone server used, testing, or live.
2) If an error appears in our app due to other custom modules installed in your system, we will charge for our efforts to resolve those errors.
3) Please refer to the document for configuration. If you need our support for configuration, please request our paid support.
4) Please note that you are not allowed to distribute or resell this module after purchase.
5) This module is tested and working on Odoo vanilla with Ubuntu OS.
6) Support services will be provided from Monday to Friday, 10:30 AM to 7:30 PM IST (Indian Standard Time).
Checkout Other Apps Developed By Synconics Technologies Click Here
For product demo, please generate a ticket and mention your preferred time and date. Please make sure the demo timing you mentioned are as per Indian Standard Time (IST), between 10:30 AM to 7:00 PM (IST), Monday to Friday.
Odoo Proprietary License v1.0

This software and associated files (the "Software") may only be used (executed,
modified, executed after modifications) if you have purchased a valid license
from the authors, typically via Odoo Apps, or if you have received a written
agreement from the authors of the Software (see the COPYRIGHT file).

You may develop Odoo modules that use the Software as a library (typically
by depending on it, importing it and using its resources), but without copying
any source code or material from the Software. You may distribute those
modules under the license of your choice, provided that this license is
compatible with the terms of the Odoo Proprietary License (For example:
LGPL, MIT, or proprietary licenses similar to this one).

It is forbidden to publish, distribute, sublicense, or sell copies of the Software
or modified copies of the Software.

The above copyright notice and this permission notice must be included in all
copies or substantial portions of the Software.

THE SOFTWARE IS PROVIDED "AS IS", WITHOUT WARRANTY OF ANY KIND, EXPRESS OR
IMPLIED, INCLUDING BUT NOT LIMITED TO THE WARRANTIES OF MERCHANTABILITY,
FITNESS FOR A PARTICULAR PURPOSE AND NONINFRINGEMENT.
IN NO EVENT SHALL THE AUTHORS OR COPYRIGHT HOLDERS BE LIABLE FOR ANY CLAIM,
DAMAGES OR OTHER LIABILITY, WHETHER IN AN ACTION OF CONTRACT, TORT OR OTHERWISE,
ARISING FROM, OUT OF OR IN CONNECTION WITH THE SOFTWARE OR THE USE OR OTHER
DEALINGS IN THE SOFTWARE.

This theme does not use any external Python dependencies.
This theme is not translated in any languages, it is only available in English.