Allure Backend Theme (For Community Edition)
Technical name
allure_backend_theme
This Theme is compatible with
Community
Enterprice
Odoo.sh
More work area for the Odoo ERP users
Desktop Menu to choose icon from 2D, 3D,
Flexibility to choose Night Mode/light mode/regular mode
Flexibility for users to choose fonts
Menu's Tree view display of menu & submenu for simple & clear view
Flexibility to choose from regular view and full screen view
Flexibility from User to user to choose function that they like.
Favourite bar: Flexibility to jump next app with single click
Flexibility to choose linear view or horizontal tab view just like Odoo
Flexibility of Fuzzy search helps for quick jump to an app
Flexibility to choose Display Density in all list view
Flexibility with fully responsive, work smooth with laptop, tablet and mobile devices
Allure Easy User Interface with more flexibility to user to user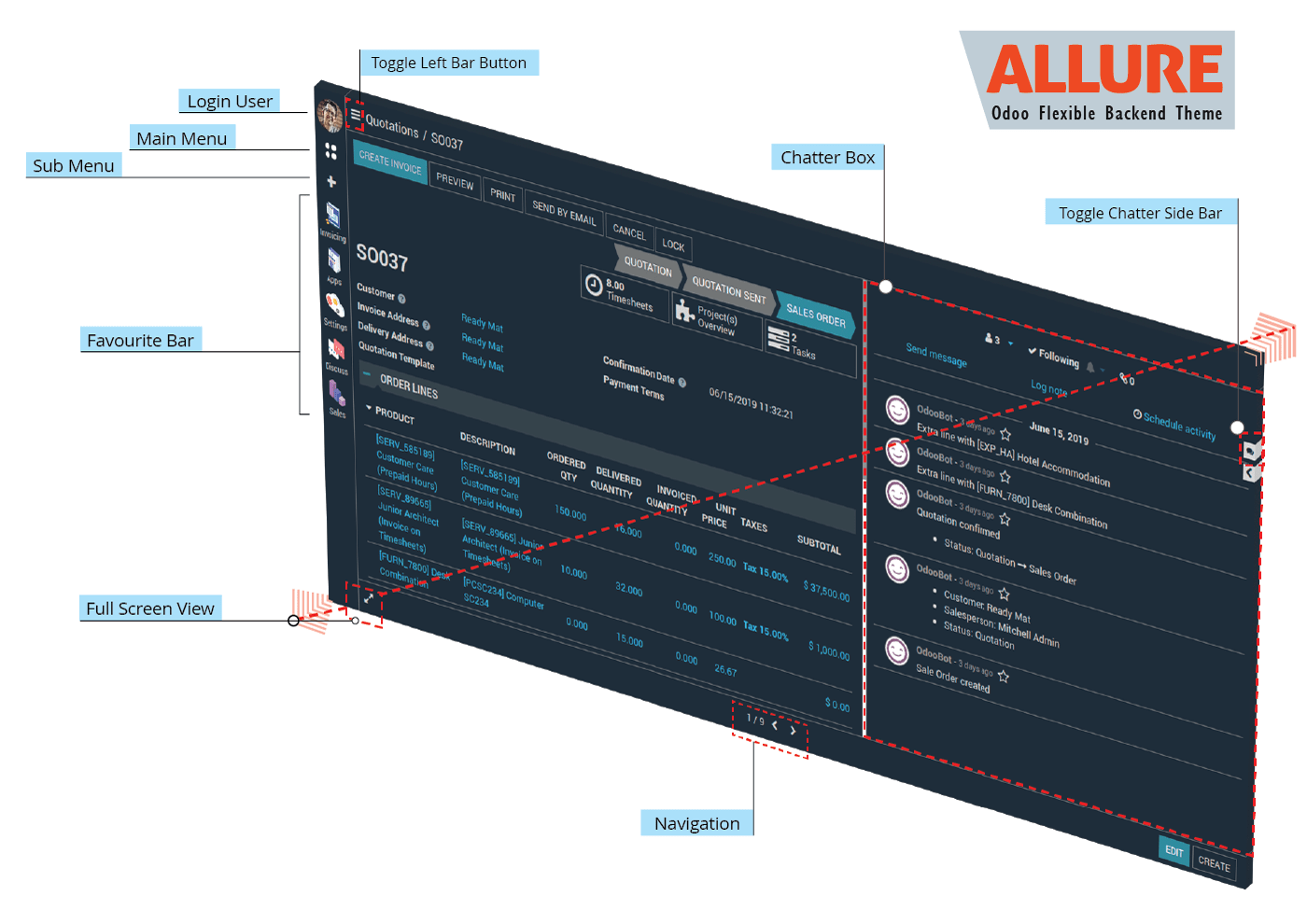 Allure look & feel and user experience
1
During the development of Allure Backend theme we had focused on the users, user work area and their ease while using Odoo ERP. We had elevated the user work area, user experience with providing flexibility to the user to reducing clicks like for switching from one app to other app with 'Favourite bar' menu. Further more provided flexibility to User to users by choosing different theme colours, fonts, apps icons, favourite apps on it's bar, a night mode, Display density for list view and many more.
2
In-depth customization is implemented on Menu bar, Submenu bar, Control Panel, List view, Search option layout, Form view action buttons, Dashboard, Kanban View, List View, Form View, Graph View, Pivot View, General View, Calendar View, Planner view, Chat Panel and many more.
3
The List view is more smoothing and also for kanban view. List view with Display density with 3 options is implemented in this theme for all modules. It becomes more relaxing for the user to operate.
4
In Search functionality, Filter, Group by and Favorites has been provided on right slide bar, with tick box option, which does not obstruct the screen as seen in standard Odoo.
5
In Allure backend theme the has flexibility to choose from horizontal tab bar & vertical tab in Form View, it becomes easier for the operator or the user to fill-in the data, when more data is to be fetched into the system.
6
As in standard Odoo view the users' are not comfortable to use the chatter functionality, because they have to scroll down to use the chatter functionality. But in Allure backend theme a chatter button is provided, as the user clicks on it, the chatter window slides-in from right side. The user can chat with the concern person and simultaneously fill-in the data in the form. In standard Odoo the user cannot use both the functionality at the same time.
7
The flexible, powerful, clean, responsive backend UI is maintained throughout the ERP. With full screan facility, the user area is wide with bigger form input area, view area, reporting area, clean dashboard with inner pages for all ERP users.
8
As our backend theme gives fresh user interface, with more flexibiity has elevated looks with larger work area your client won't be able to realize that Odoo is working in background. It makes you feel as if, you or your client is using independent ERP system.
Desktop Menu
The desktop of the ERP system has been designed for better user interface. The main menu icons are placed on the desktop layout of ERP system. The user can have a visual glance of the available modules and it becomes easier to access any menu with a single click.
Fuzzy Search
Adding to the features of the desktop menu, fuzzy search option is provided on the top of menu icons. The user can jump into the menu, sub menu and get into the depth of the tree view, directly without accessing into it. The user needs to type in the key alphabets and the desired list will show.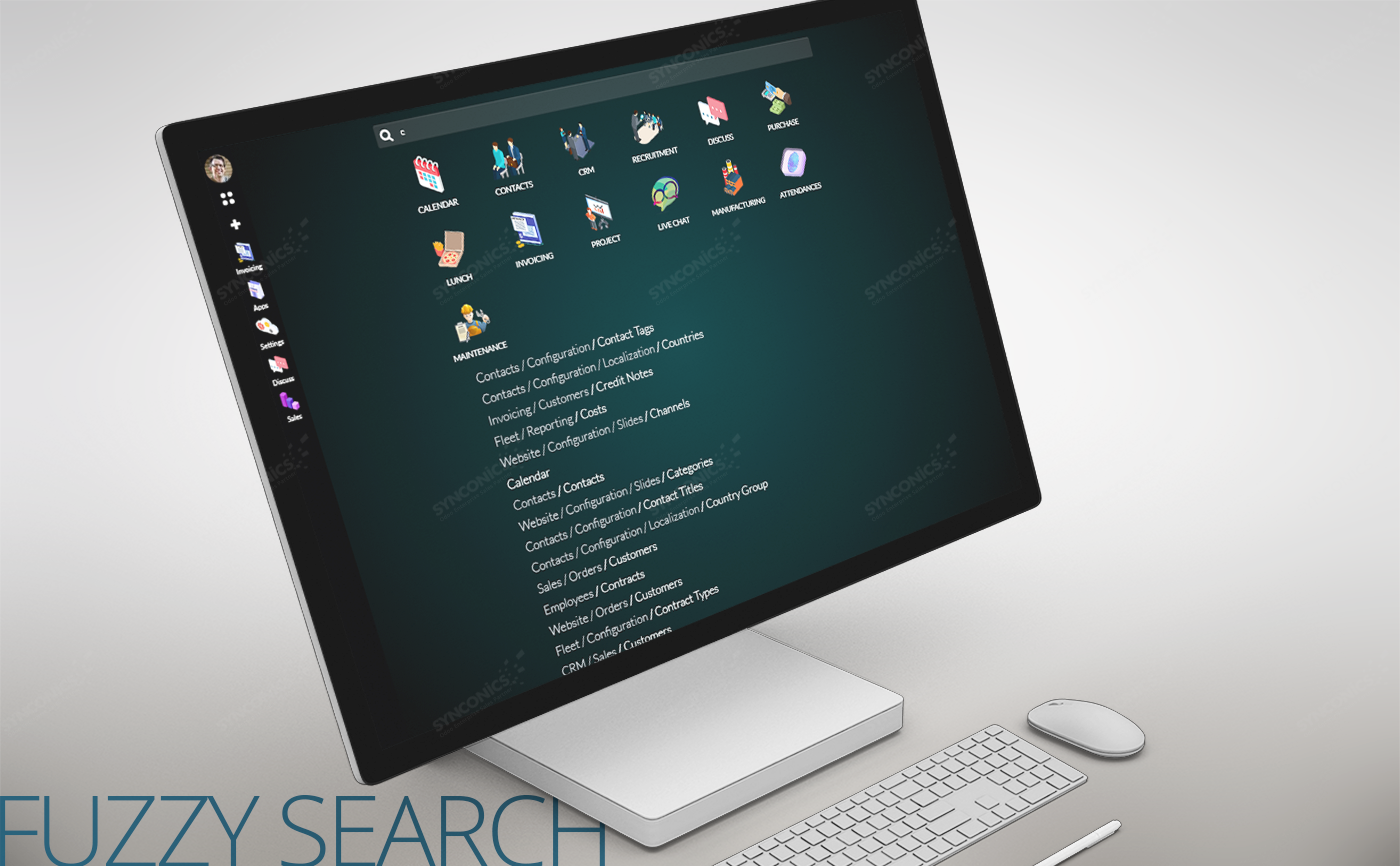 Horizontal/Vertical Menu options
Allure backend theme has flexible options to switch from horizontal to vertical and from vertical to horizontal menu options. Depending on the user convenience and with simple configuration the main menu and the sub menus can be switched from vertical left bar (default) to horizontal top bar. It can be used in combination of favorite menu, for e.g. a sales representative selects inventory, sales, invoicing and etc. main menus for favorite bar and he can opt for the option for horizontal top bar. So when the main menu icon is selected from favorite bar, simultaneously sub menu options can be accessed which reduces number of clicks to access the sub menu.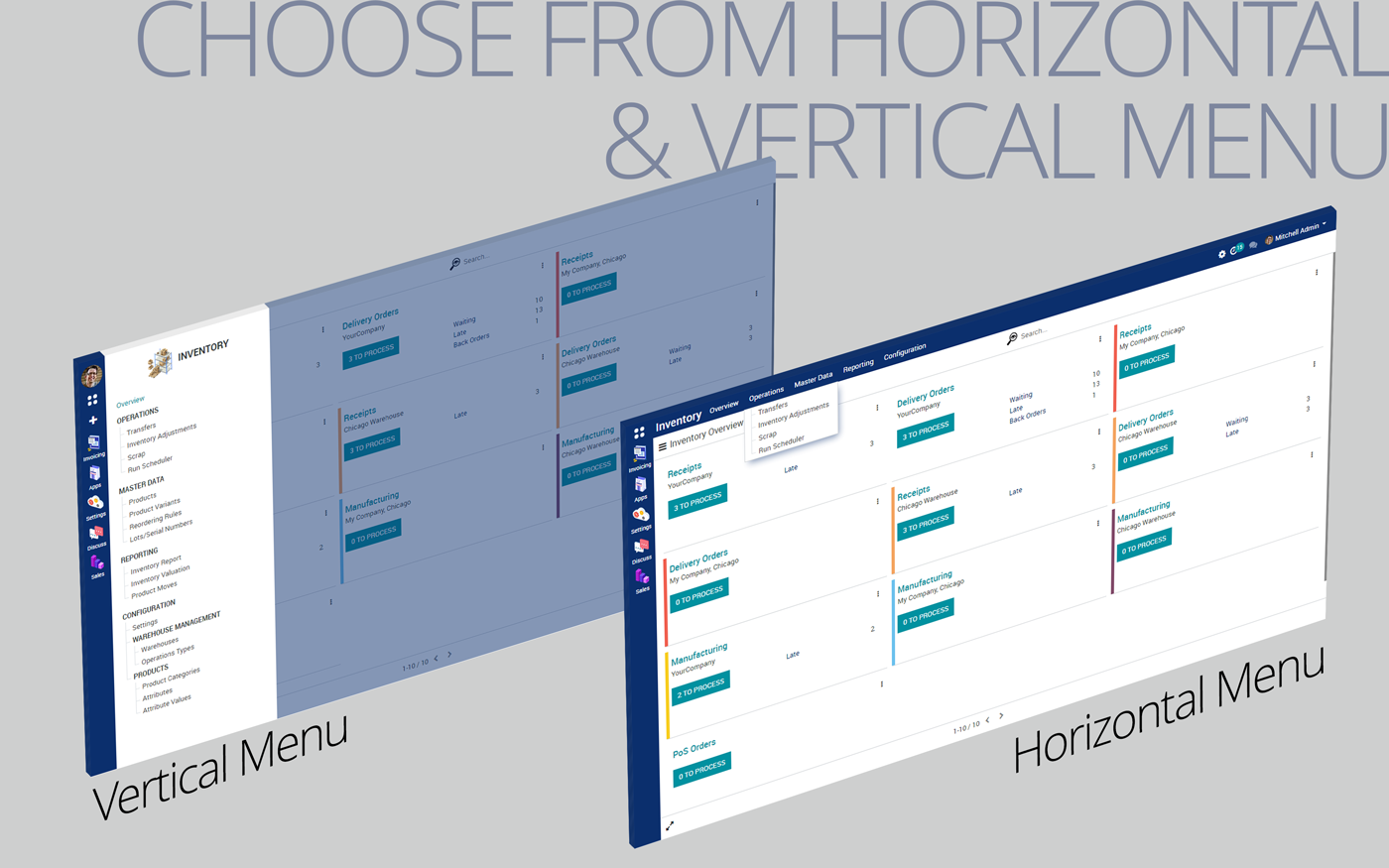 Favourite bar
(Favorite Bar) In addition a favorite bar option is also provided, wherein the menu icons can be dragged & dropped. At times there are users who frequently access common menus, so the favorite bar can be configured user wise, for e.g. a sales representative often uses inventory, sales, invoicing, etc. modules. These modules can be easily dragged & dropped on the favorite bar provided on the left side, so it becomes a shortcut for the sales representative to access those modules with a single click, even though the user is working on a different module. User can change the sequence of menus on Favourite Bar.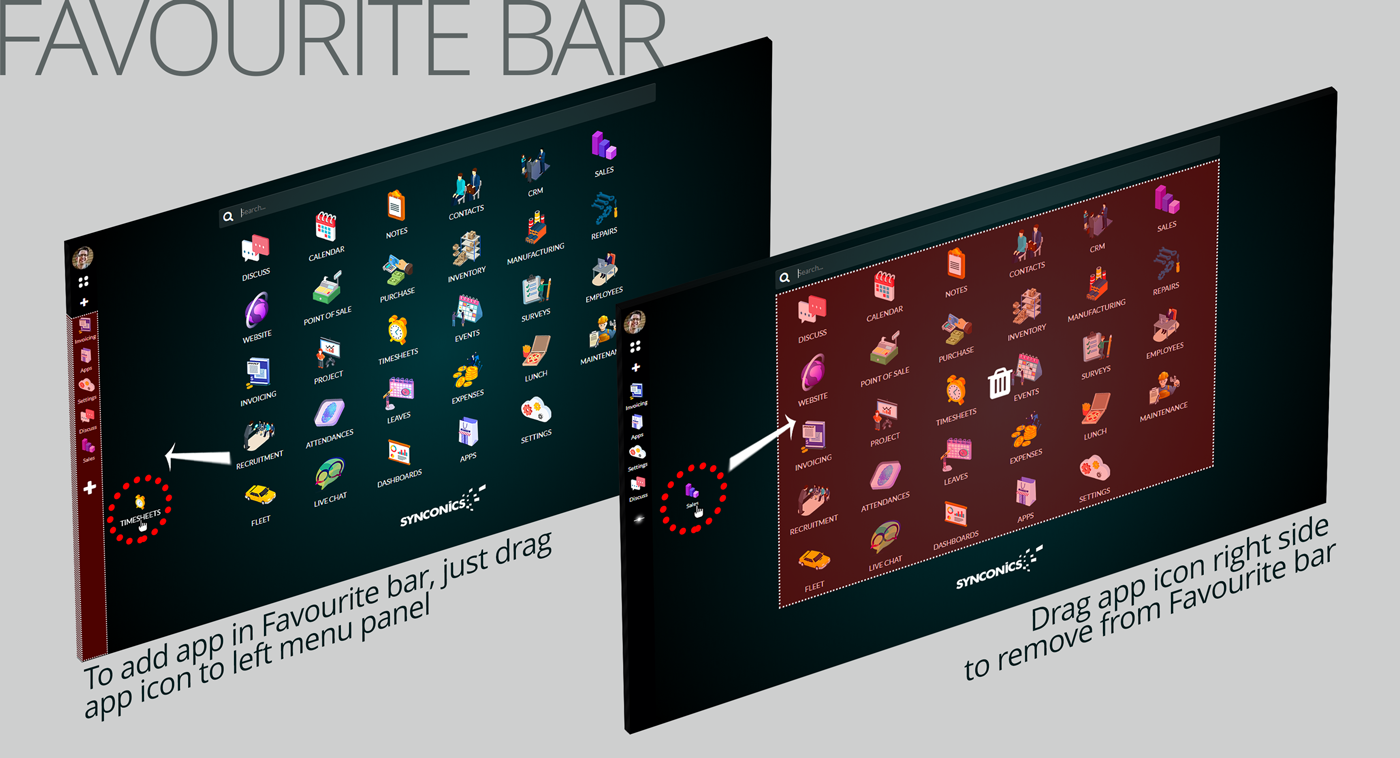 List view (Display density)
A unique feature is added in Allure backend theme, the list view can be changed with available options; default, comfortable and compact. In default option the list view shows the records with the files attached, an option is also provided to download them directly. The image, video and PDF files can be viewed directly without downloading them. In comfortable view the attached files are not visible on the record line. If more records are to be viewed then the user can switch on to compact view, wherein more record lines are visible on screen.
Display Mode
Adding on to the features the display mode can be adjusted suitable to the ambient light. By default the normal mode is the most suitable mode for normal vision. If the user finds the screen too bright, then in Light mode the access screen brightness is reduced. If the user is operating the ERP system in complete darkness, then Night mode is the best option available in Allure Backend theme.
2D, 3D & default Icons
In continuation to the menu icons, multiple options are provided, 2D, 3D and Odoo base icons. With change in icons the outlook of the ERP changes. 2D & 3D icons have been specially designed, keeping in mind the visual aspect of user interface and to enhance the user experience.
Horizontal/Vertical Tab options
As shown in the screenshot, there two type of tab options available, horizontal & vertical. Horizontal is similar to standard Odoo functionality. The vertical tab view is specially designed to ease the user operations. At the time of form filling the user can jump from one field to another without using the mouse. If there are more tabs an option is provided to minimize the tabs, the user can configure to minimize or maximize the tabs as per his operation convenience. Bu default the tabs will remain open in vertical tan view.
System Tray Menu
We have provide Theme setting options along with other system tray menu, We have also modify the view of System tray menu.
Choose Font from six options
The Odoo ERP system has standard fonts there are no options to change the fonts. But in Allure backend theme we have taken care of fonts too and provided 6 fonts options. Desired to user choice fonts can be changed from the provided options.
Menu's Tree view display
The ERP system can be operated in full screen mode. The browser won't be visible, only the ERP system will be visible on screen.
User Settings
More flexible options are provided for comfortable user settings. In Allure backend theme the administrator has rights to provide user access rights to alter their settings. Check the table below for administrator and user settings options available.
Customize Theme Colors
Allure backend theme has predefined 9 color themes. In addition a separate option is provided to customize your own color scheme for left bar, menus, buttons etc.
Horizontal/Vertical Menu options
List view Display density(compact,comfortable & Default)
Display Mode(Normal, Night & light mode)
Horizontal/Vertical Tab options
Free Support
1) One month free bug support period will be offered pertaining to any one server used, testing or live.
2) If an error appears in our app due to other custom modules installed in your system, we will charge for our efforts to resolve those errors.
3) Please refer the document for configuration. If you need our support for configuration, please request our paid support.
4) Please note that you are not allowed to distribute or resell this module after purchase.
5) This module is tested and working on Odoo vanilla with Ubuntu OS.
Checkout Other Apps Developed By Synconics Technologies Click Here
For product demo, please generate a ticket and mention your preferred time and date. Please make sure the demo timing you mentioned are as per Indian Standard Time (IST), between 10:30 AM to 7:00 PM (IST), Monday to Friday.
Odoo Proprietary License v1.0

This software and associated files (the "Software") may only be used (executed,
modified, executed after modifications) if you have purchased a valid license
from the authors, typically via Odoo Apps, or if you have received a written
agreement from the authors of the Software (see the COPYRIGHT file).

You may develop Odoo modules that use the Software as a library (typically
by depending on it, importing it and using its resources), but without copying
any source code or material from the Software. You may distribute those
modules under the license of your choice, provided that this license is
compatible with the terms of the Odoo Proprietary License (For example:
LGPL, MIT, or proprietary licenses similar to this one).

It is forbidden to publish, distribute, sublicense, or sell copies of the Software
or modified copies of the Software.

The above copyright notice and this permission notice must be included in all
copies or substantial portions of the Software.

THE SOFTWARE IS PROVIDED "AS IS", WITHOUT WARRANTY OF ANY KIND, EXPRESS OR
IMPLIED, INCLUDING BUT NOT LIMITED TO THE WARRANTIES OF MERCHANTABILITY,
FITNESS FOR A PARTICULAR PURPOSE AND NONINFRINGEMENT.
IN NO EVENT SHALL THE AUTHORS OR COPYRIGHT HOLDERS BE LIABLE FOR ANY CLAIM,
DAMAGES OR OTHER LIABILITY, WHETHER IN AN ACTION OF CONTRACT, TORT OR OTHERWISE,
ARISING FROM, OUT OF OR IN CONNECTION WITH THE SOFTWARE OR THE USE OR OTHER
DEALINGS IN THE SOFTWARE.

This theme does not use any external Python dependencies.
Available languages
| | Language | % translated | |
| --- | --- | --- | --- |
| | Spanish (PY) / Español (PY) | | |