Costcenter
Technical name
account_cost_center
Cost center analysis
easy and effective.
Odoo has many reporting functions. Lacking was the cost center concept which we added in this module.
Cost centers can be configured after you made the reporting design.

Input on invoice lines
Cost centers can be selected on invoice lines.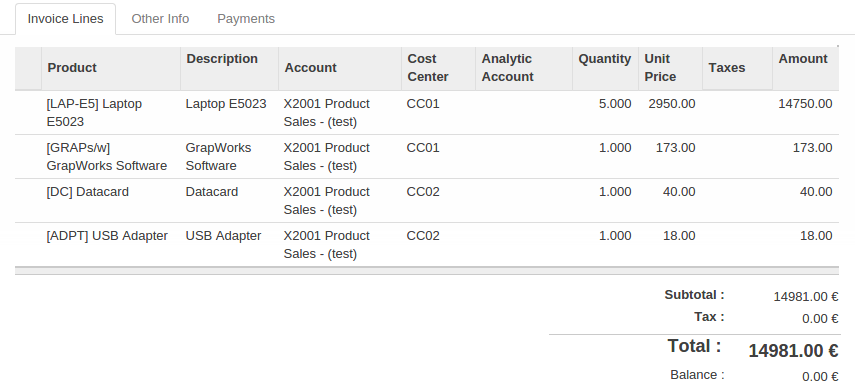 BI reporting
Reporting is integrated with the invoice reporting. This reporting is also extended with the analytic accounting. Cost centers and analytic account will help managing business costs.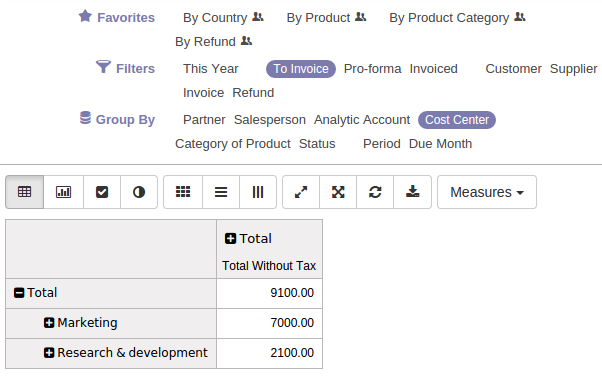 This theme does not use any external Python dependencies.
Available languages
| | Language | % translated | |
| --- | --- | --- | --- |
| | German / Deutsch | | |
| | Slovenian / slovenščina | | |
| | Portuguese / Português | | |
| | Dutch / Nederlands | | |
| | Portuguese (BR) / Português (BR) | | |
| | Croatian / hrvatski jezik | | |
| | French / Français | | |
| | Italian / Italiano | | |
| | Chinese (Simplified) / 简体中文 | | |
| | Portuguese / Português | | |
| | Finnish / Suomi | | |
| | Croatian / hrvatski jezik | | |
| | Spanish (MX) / Español (MX) | | |
| | Hungarian / Magyar | | |
| | Estonian / Eesti keel | | |
| | Polish / Język polski | | |
| | Bosnian / bosanski jezik | | |
| | Bulgarian / български език | | |
| | Swedish / Svenska | | |
| | Macedonian / македонски јазик | | |
| | Arabic / الْعَرَبيّة | | |
| | Japanese / 日本語 | | |
| | Chinese (Traditional) / 繁體中文 | | |
| | Mongolian / монгол | | |
| | Spanish (EC) / Español (EC) | | |
| | Indonesian / Bahasa Indonesia | | |
| | Dutch (BE) / Nederlands (BE) | | |
| | English (UK) | | |
| | Norwegian Bokmål / Norsk bokmål | | |
| | Russian / русский язык | | |
| | Turkish / Türkçe | | |
| | Turkish / Türkçe | | |
| | Thai / ภาษาไทย | | |
| | French (CH) / Français (CH) | | |
| | Slovak / Slovenský jazyk | | |
| | Greek / Ελληνικά | | |
| | Spanish (CR) / Español (CR) | | |
| | Dutch / Nederlands | | |
| | Spanish (CL) / Español (CL) | | |
| | Vietnamese / Tiếng Việt | | |
| | Spanish / Español | | |
| | Catalan / Català | | |
| | Serbian (Latin) / srpski | | |
| | Spanish (DO) / Español (DO) | | |
| | Spanish (VE) / Español (VE) | | |
| | Ukrainian / українська | | |
| | Spanish (PE) / Español (PE) | | |
| | Spanish / Español | | |
| | French (CA) / Français (CA) | | |
| | Spanish (AR) / Español (AR) | | |
| | Hebrew / עִבְרִי | | |
| | Persian / فارس | | |
| | Spanish (CO) / Español (CO) | | |
| | Latvian / latviešu valoda | | |
| | Vietnamese / Tiếng Việt | | |
| | Spanish (PY) / Español (PY) | | |
| | Lithuanian / Lietuvių kalba | | |
| | Lithuanian / Lietuvių kalba | | |
| | Gujarati / ગુજરાતી | | |
| | Slovak / Slovenský jazyk | | |
| | Galician / Galego | | |
| | Galician / Galego | | |
| | Romanian / română | | |
| | Romanian / română | | |